Services
TELECOMMUNICATION SYSTEMS
IPTV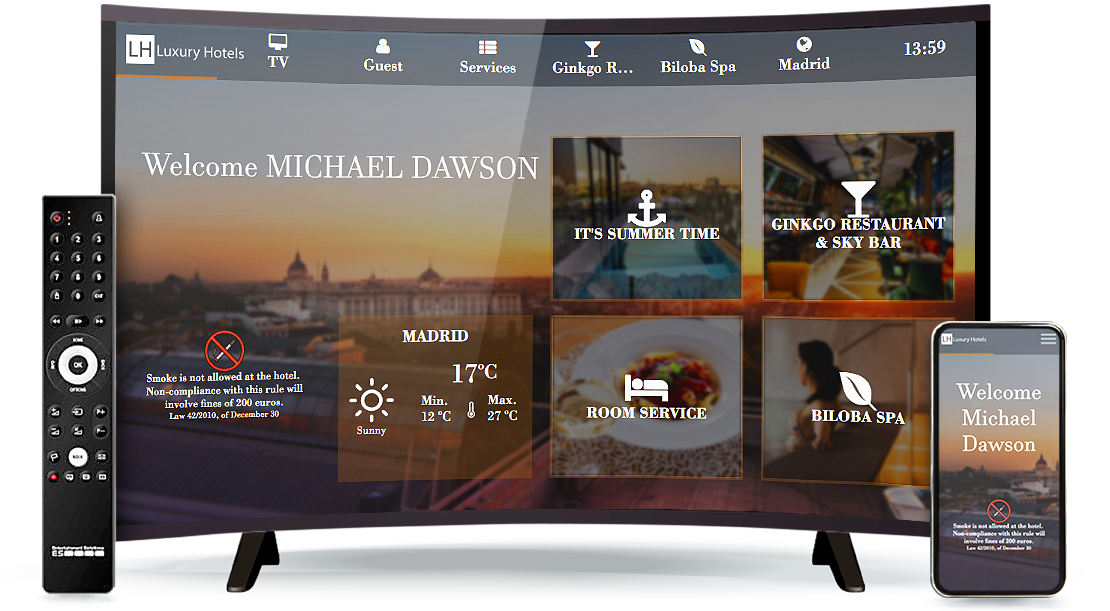 IPTV is a system where digital television services are provided over the Internet using the Internet Protocol. As a result, you get a complete package in which video streams are encoded into a series of IP packets and then carried out over the Internet, which means that all you need to deploy is a television receiver (set-top box) and a subscription to the service. The small size of the receiver / decoder saves space, eliminating the need to purchase additional television equipment.
Video Recording: With this revolutionary function, you can watch the programs of the last 7 days, automatically recorded for your convenience.
TV controller: Rewind, fast forward and pause even while TV broadcast.
On-demand movies: Rewind, fast-forward, and pause apply to the latest real-time movies. This service makes you absolutely independent of television schedules, which allows you to watch movies in the same way / with the same ease as you would on a DVD player.
Real-time interactivity: Internet-based technology provides real-time interactivity, allowing you to choose programs according to your taste, which means that you can now order movies and listen to the radio at the time most convenient for you.
IPTV television solution for hotels, hotels, medical facilities
Peculiarities of interactive television for hotels:
designed specifically for the hotel's own needs, such as an introduction to hotel services, catering services, shopping services, TV inquiries, payment information, etc.

a flexible interface for interaction with third-party systems, can be connected to the registration desk, or display information on weather, flights, government information, call taxi services, etc. at different time zones.

Android OS, a single platform, supports multi-screen viewing of interactive television and allows you to organize access to services from multiple terminals.

video on demand (VOD), playback, time shift, interactive games and other interactive services

terrestrial and satellite television programs in each room with additional information about the hotel in a corporate style

custom user interface design for customers

All programs will be available upon request. Among the alternative advantages is the recording of the program in accordance with the electronic program guide, if the Client is outside the hotel so that he can watch the program later at a more convenient time

A wide selection of third-party custom OC Android applications.
NetUP software and hardware complex is designed to provide services in the field of interactive television:
Broadcasting satellite, terrestrial and cable channels (Streaming) to the IP network;

«Video on Demand» (VoD);

«Virtual cinema» (nVoD);

«TV on request» (TVoD);

«Personal VCR» (NPVR);

Time-shifted Television (Time-Shifted TV);
Various interactive functionality of client set-top boxes (Set-Top Box).
NetUP IPTV Complex contains all the necessary tools for solving interactive TV tasks, closely integrated with each other:
Subscriber Management System;
Flexible business logic for tariffing services(Billing);
The protection of content from unauthorized access at various levels (CAS, DRM);
The interface of interactive access to services for client consoles (Middleware).
Content flow shaping and management (DVB/IP-steamers, MPEG-coders, VoD/nVoD-server);
By combining the system components in a cluster, NetUP IPTV Complex is scaled up and down. All software components of the complex are developed on the basis of NetUP Business Server (NBS).
NBS is a platform for developing client-server applications, which allows you to create systems of any complexity. Thanks to the modular architecture, it is possible to quickly change all the functionality without stopping the operating software.